Time Management
---
3
Resource Downloads
51:08
MINUTEs OF LEARNING
Unlimited
DAYS TO ACCESS

.
Time Management
SLAY TIME MANAGEMENT while WORKING FROM HOME
Are you feeling-
Overwhelmed?
Unorganized?
Anxious?
Unproductive?
You are not alone. While you can't control what is happening around you or how long you will be trapped in your home, you can control what happens within the confines of your day. Traci Bild, CEO of Bild & Co, speaker, author and entrepreneur; who has run her international company from the comfort of home for two decades will teach you how to slay time management. Learn to work smart, not hard and find some semblance of calm and accomplishment along with newfound freedom from being disorganized and unprepared to work in an at-home environment.
Here's what you'll learn to do in this course:
Proactively pre-plan the week ahead- set yourself up to work smart, not hard; while working less yet producing more than ever before
Sync up, chunk your time, color code and prep ahead to slay the day
Wrap in real life- yes that means meal planning, exercise, meditation and time for fun
Learn to love the delete button and plan for the unexpected.
Tame the to do list once and for all:
Prioritize for peak performance so you can get in and get it done
Create a Capture Tool to tame the chaos and curate calm in your day
Eliminate Email thievery and take your time back
Curate a work-life blend that fosters balance, parameters and honors what matters most to you!
Resource Downloads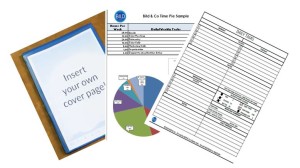 Bild & Co Time Pie Sample – allows you to break down your tasks and time spent with an interactive pie chart.
Purchase Archival Folder – Insert your own pages and business cards, write on the durable plastic with erasable marker, and keep organized.
Sales Success Planner Pages – Track you daily activity and tasks!